01-11-2018, 03:00 AM (This post was last modified: 01-11-2018, 03:02 AM by gematriaforum.)
Missouri Gov. Eric Greitens: I cheated on my wife in 2015
                                                        Full Reduction       Reverse Full Reduction      English Ordinal       Reverse Ordinal
                                                              226                            233                               487                      620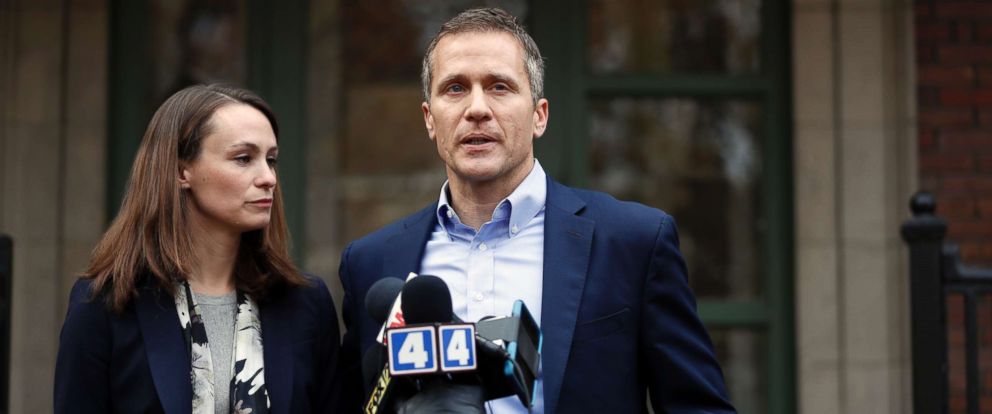 PHOTO:

Then-Missouri Gov.-elect Eric Greitens and wife Sheena speak to the media Tues., Dec. 6, 2016,
in St. Louis. Sheena Greitens was robbed at gunpoint while sitting in her car not far from from the family's St. Louis home.
Missouri Gov. Eric Greitens on Wednesday night admitted that he was unfaithful to his wife Sheena in 2015.
The 43-year-old Republican lawmaker's admission was inspired by local TV station KMOV's report Wednesday night, in which the ex-husband of the alleged mistress was interviewed and provided to the station secretly-taped recordings of his ex-wife detailing when and where she met Greitens. The identity of the ex-husband and woman were not revealed by the station. The station reports the woman declined comment.
The admission also came hours after Greitens, a former Navy SEAL, delivered his annual State of the State address in Jefferson City, Missouri.
"A few years ago, before Eric was elected Governor, there was a time when he was unfaithful in our marriage,"
the Greitens said in a joint statement. "This was a deeply personal mistake. Eric took responsibility, and we dealt with this together honestly and privately."
The statement continued, "While we never would have wished for this pain in our marriage, or the pain that this has caused others, with God's mercy Sheena has forgiven and we have emerged stronger. We understand that there will be some people who cannot forgive – but for those who can find it in your heart, Eric asks for your forgiveness, and we are grateful for your love, your compassion, and your prayers."
The Greitens married in 2011 in Spokane, Washington, according to their wedding announcement in
The New York Times
. It is the governor's second marriage. They have two sons, Joshua and Jacob.
As for the TV report, Grietens' attorney, James F. Bennett, said in a statement Wednesday night, "The governor has now seen the TV report that ran tonight. The station declined to provide the tape or transcript in advance of running their story, which contained multiple false allegations. The claim that this nearly three-year old story has generated or should generate law enforcement interest is completely false. There was no blackmail and that claim is false. This personal matter has been addressed by the Governor and Mrs. Greitens privately years ago when it happened. The outrageous claims of improper conduct regarding these almost three-year-ago events are false."
Sheena Greitens, 35, also issued her own statement Wednesday night, saying "We have a loving marriage and an awesome family; anything beyond that is between us and God. I want the media and those who wish to peddle gossip to stay away from me and my children."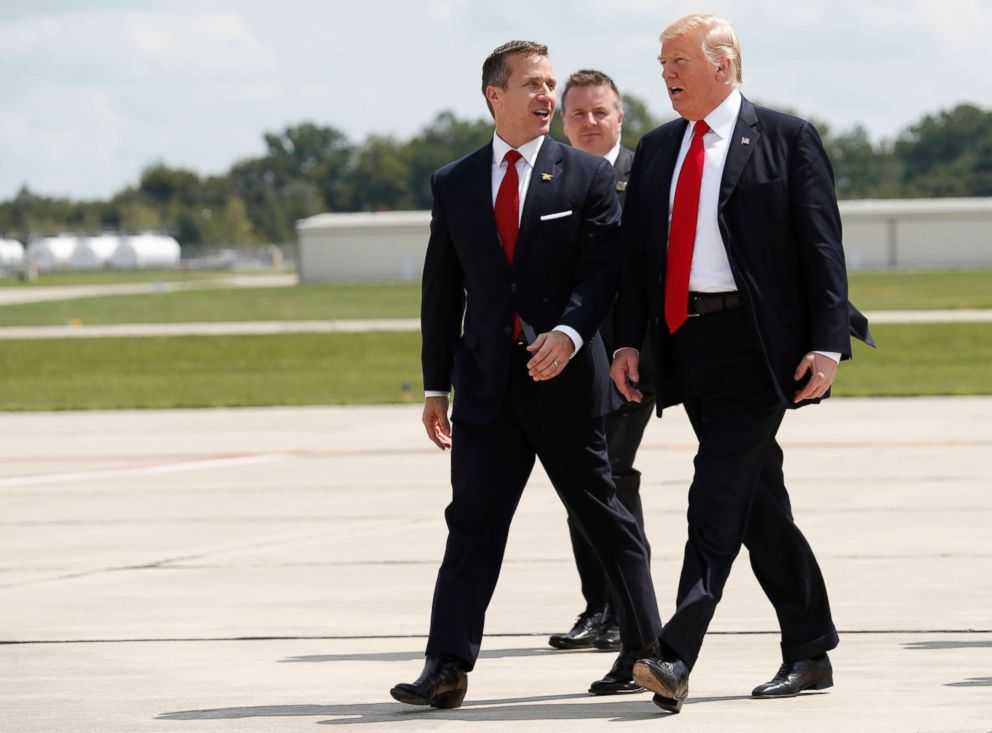 Missouri Gov. Eric Greitens, left, walks with President Donald Trump as they arrive in Springfield, Mo., Wednesday, Aug. 30, 2017.
THIS IS WHAT

YOU NEED TO KNOW

ABOUT

ERIC ROBERT GREITENS
Greitens was born on April 10, 1974, in St. Louis, Missouri, the son of Becky and Rob Greitens. He is Jewish. Greitens attended Naval Officer Candidate School in January 2001, after graduating from Oxford. He began Basic Underwater Demolition/SEAL (BUD/S) and graduated with Class 237 in Coronado, California in February 2002. Greitens was a lieutenant commander in the United States Navy Reserve, and he was deployed four times to Iraq, Afghanistan, the Horn of Africa, and Southeast Asia. He served as the commander of a joint special operations task unit.
HE WAS

SELECTED

NOT ELECTED

,
JUST LIKE THE

OTHER 49
GOVERNORS
!